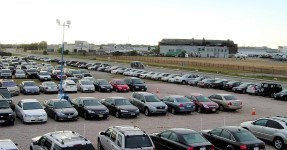 Dockside Parking - $15 per calendar day **
Dockside Parking is $15 per calendar day. We have an enormous dockside parking lot here in Quonset Point – our ticket office, parking lot, and the the ferry dock are all part of the same facility. It's that easy, navigate to 1347 Roger Williams Way, North Kingstown, RI, pay to park, park your car a few hundred feet from the dock, and you're ready to start your vacation!
** Please be prepared to pay parking fees with cash upon arrival in our lot. We do not have an ATM on-site and credit cards are not accepted for parking payments.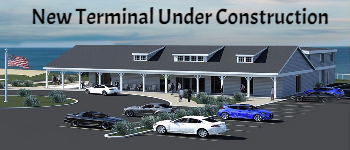 Safe, secure, accessible whenever the boat is running
Our parking lot is safe and secure – fully fenced in, gated, and in a very safe part of suburbia here in North Kingstown, RI. We open the lot 1 hour prior to the first ferry departure of the day and close the lot for the evening approximately 30 minutes after the last boat of the day arrives back from Martha's Vineyard. The lot is not accessible 24 hours a day, please do not try to pick up a vehicle either before or after hours – we'll all be at home sleeping unfortunately!