MARTHA'S VINEYARD FAST FERRY
We operate a High-Speed Ferry to Martha's Vineyard, operating between Quonset Point, RI and Oak Bluffs, MV
WE WILL PUBLISH OUR 2023 SEASON SCHEDULE AND BEGIN ACCEPTING BOOKINGS ON FEBRUARY 15!
Schedule
WE WILL PUBLISH OUR 2023 SEASON SCHEDULE AND BEGIN ACCEPTING BOOKINGS ON FEBRUARY 15!
*NO FERRY SERVICE ON NON-COLORED DATES
| Depart Quonset | Arrive MV | Depart MV | Arrive Quonset |
| --- | --- | --- | --- |
| 8:30 AM | 10:15 AM | 10:45 AM | 12:30 PM |
| 1:00 PM | 2:45 PM | 3:15 PM | 5:00 PM |
| Depart Quonset | Arrive MV | Depart MV | Arrive Quonset |
| --- | --- | --- | --- |
| 8:30 AM | 10:15 AM | 10:45 AM | 12:30 PM |
| 3:00 PM | 4:45 PM | 5:00 PM | 6:45 PM |
*Sailing Schedules are subject to changes without notice, all trips are 105 minutes in duration and may vary in length due to tide and weather conditions.
**We recommend that passengers arrive at least 45-minutes prior to departure in Quonset Point and at least 30-minutes prior to departure in Oak Bluffs. Reserved tickets that are not redeemed by boarding 15-minutes prior to departure will be released to standby passengers.
2022 Martha's Vineyard Fast Ferry Rates
*Advanced Reservation Rates*
| | One Way | Round Trip |
| --- | --- | --- |
| Adult (12-59) | $56.00 | $89.00 |
| Senior (60+) | $50.00 | $84.00 |
| Children (3-11) | $44.00 | $66.00 |
| Infant (0-2) | $22.00 | $33.00 |
| Bikes | $8.00 | $16.00 |
| Bikes w/Trailer | $12.00 | $24.00 |
| One Way | Round Trip |
| --- | --- |
| $66.00 | $109.00 |
| $60.00 | $104.00 |
| $54.00 | $86.00 |
| $32.00 | $53.00 |
*Advance Online Reservations are highly recommended and offer the best available rate. All walk-up purchases will incur a $5.00 fee. Determine overall rate to travel by selecting Book a Trip in the upper right corner of this page, then selecting your desired trips; Peak Rates, as applicable, will be automatically applied.
Passenger fares may be subject to a fuel surcharge and do not include an Oak Bluffs Port Fee of $0.50 each way. The above rates are subject to change without notice.
Fare Rules & Ticket Redemption Policies
ALL TICKETS ARE NON-REFUNDABLE: Unless purchased with Assurance, all tickets are non-refundable.
MODIFYING YOUR TRIP: Modifications to your reservation must be made 24 hours prior to departure. If purchased without Assurance, a $10.00 per person Modification Fee along with any fare difference will apply. With Assurance, only the fare difference will apply.
NO SHOW POLICY: If you fail to make your scheduled departure, your ticket will no longer be valid, and therefore you will be required to make a new reservation. You must contact us 24 hours prior to missing your scheduled trip to avoid ticket forfeiture.
STAND-BY POLICY: If a departure is sold out, we will try to accommodate passengers that wish to stand-by for boarding. Stand-by passengers are boarded on a first-come, first serve basis from the standby line. Unclaimed reservations are released 3-5 minutes prior to departure after all ticketed passengers have been boarded. All Standby customers will be required to purchase tickets for the trip they are boarding.
**Security Notice** All passengers, personal items, luggage and freight may be subject to search and inspection prior to boarding our vessel and/or anytime while on board the vessel under the Maritime Transportation Security Act of 2002. We ask that travelers plan accordingly for the possibility of these pre-boarding requirements. Passengers who refuse to submit to a search will be denied boarding.
MARTHA'S VINEYARD
Martha's Vineyard is 20 miles wide and nine miles in length that is about 125 square miles in total with six beautiful towns:
Oak Bluffs, Vineyard Haven, Edgartown, West Tisbury, Chilmark and Aquinnah.
You'll arrive in the heart of Oak Bluffs with white sand beaches, numerous gift shops, restaurants, and hotels just steps away. With the other towns close by, you can rent a bike, scooter, car, or hop on a trolley and set out on a narrated sightseeing tour of the Island.
Here are just a few of the attractions, and highlights of a day trip to Martha's Vineyard:
Walk up and down Circuit Avenue, and be sure to look inside every store.
Enjoy at least one of the 19 beautiful beaches on the Island.
Take a stroll through the Gingerbread Houses and the Tabernacle at Trinity Park – don't forget your camera!
Visit the Chicama Vineyards Winery.
Stroll around the many quaint shops in Edgartown.
Visit one of the 39 Art Galleries on Martha's Vineyard.
Go to Aquinnah to see the breathtaking Gay Head clay cliffs and the Lighthouse.
Relax with a refreshing drink at one of the restaurants overlooking the harbor.
Directions
Martha's Vineyard Fast Ferry – Quonset Point, RI Terminal
Terminal Address: 1347 Roger Williams Way, North Kingstown, RI 02852
Our departure location is the most convenient and hassle free way to travel to Martha's Vineyard. Quonset Point is located in North Kingstown, Rhode Island with no traffic hassles and plenty of safe & secure dockside parking.
Directions to Our Dock in Oak Bluffs, Martha's Vineyard
Dock Address: 10 Circuit Avenue Extension, Oak Bluffs, MA 02557
We dock in the town of Oak Bluffs, within Oak Bluffs Harbor at Oak Bluffs Marina. We share a dock with the Island Queen Ferry at the intersection of the Circuit Ave Extension and the Seaview Ave Extension. View the map below for more info!
Are your vessels and facilities handicap accessible?
Yes, all our vessels and facilities are ADA compliant.
Where do we park for the Martha's Vineyard ferry?
Our parking for Martha's Vineyard ferry is the closest it can possibly be to our dock, no need for shuttles or off-site parking. We charge $15.00 per calendar day. Our lot is safe and secure. We have staff on site for most hours of the day, and the gates are locked overnight. However, as in most parking facilities, we ask that you are considerate of others when you park and please lock your vehicle before leaving! There is no designated parking at our dock in Martha's Vineyard.
How early do I need to arrive before my ferry leaves?
If you have reservations (which are highly recommended!), we ask that you arrive to our terminal at least 30-45 minutes prior to departure to park your car, unload your belongings, and check in if needed. We typically start loading 10-15 minutes prior to departure, but we like to recommend plenty of time, so you don't feel rushed at the start of your vacation.
What amenities are at the Quonset location?
Currently, there's not much in the form of refreshments or amenities at our ticket office. We recommend grabbing a bite to eat before arriving in Quonset. We are a few miles away from a town centre and food/beverage amenities. However, we are in the process of building a new terminal which will offer many more amenities for our passengers!
Do I need to make a reservation, and where do I purchase tickets?
We strongly encourage reservations as many of our trips sell out during peak travel times. Tickets are available for purchase on our website, over the phone, and at our terminal in Quonset Point.
How do I obtain my tickets?
When you make a reservation you will receive a confirmation email. Within the email, there is a QR code we will scan when boarding. You can leave this on your phone and have it ready when boarding, or you can print this out in advance. If neither is an option for you, our ticket agents would be happy to print your tickets inside our Quonset office. Please note, we do not have a ticket office on Martha's Vineyard, so please have your email ready on your phone or printed.
Are tickets refundable?
All tickets are non-refundable unless you purchase ticket assurance. If you would like a refundable option, you must purchase ticket assurance at the time of your reservation.
What is ticket assurance?
Get reimbursed up to 100% with Ticket Assurance for only an additional %15 of your reservation or have the ability to move your ticket to another date, based on availability and fare price difference, for no additional change fee. If you can't attend the experience for any reason, such as, illness, airline delays, traffic accidents, or weather emergencies, you'll be reimbursed for this purchase. Ticket assurance protects your financial investment of the tickets including taxes and shipping costs (up to the amount of your total transaction cost less your assurance costs) should you not be able to attend for any reason. Ticket Assurance must be exercised at least 2 hours prior to your scheduled departure.
Can I change or cancel my reservation?
If you opted out of ticket assurance, all tickets are non-refundable; however, we understand that plans may change! So, tickets may be modified for any trip on any date in the current operating season, as long as there is available space. Just give our office a call at least 24 hours before your departure time, and our ticket agents will be happy to make any changes to your reservation, for a $10 modification fee per ticket.
What happens if the ferry is canceled because of weather conditions?
We will always make our best effort to notify you of cancellations or service delays via phone call, text, and email. While these cancellations or delays affect only around 1% of our annual trips, please ensure that you share accurate contact information with us at the time of booking. If we cancel, we will offer you a full refund of your ferry reservation.
Do you offer group discounts for the Martha's Vineyard Ferry?
Absolutely! Group discounts are available for many of our trips (15 or more passengers traveling together with a single method of payment). Please call our office and ask to speak to our group manager about rates and blackout dates.
How long is the trip on the ferry to Martha's Vineyard?
The ferry ride takes approximately 95 minutes; however, this can vary depending on weather and tide conditions! We begin boarding 15 minutes prior to departure.
Can we bring our pet?
Absolutely! Pets are permitted on the ferry at no additional cost. If you are traveling with your furry friend, we ask that they remain on a leash or in a carrier for the entire ride and that you're courteous of those around you.
Can we bring our bicycles?
Of course, Martha's Vineyard is an awesome place to ride your bike! Bikes are $8 each way. We can also accommodate bikes with trailers ($12 each way).
Is there a luggage policy, and how many bags am I allowed to bring?
Our company is typically very accommodating with luggage, however on busy or "peak" trips, we ask that you only bring one bag and one carry-on (just like at the airport!) with you on your trip. If your family is visiting Martha's Vineyard for an extended amount of time and require multiple bags per person, we recommend choosing one of our off-peak times to allow for the most space. We have two designated areas inside the cabin for your bags. You may keep your "carry-on" bag with you at your seat, but all large bags and suitcases will be tucked away in a safe, visible spot by our helpful crew prior to the trip.
What food and drinks are available for purchase onboard?
We have light fare (i.e., chips, cookies, and granola bars) and a full bar. You are welcome to bring your own food, but we ask that you refrain from enjoying your own alcoholic beverages until reaching Martha's Vineyard.
Can I smoke on board the ferry to Martha's Vineyard?
For the comfort and safety of all our passengers traveling to and from Martha's Vineyard, we ask that you refrain from smoking (no vaping or e-cigs either!) on the ferry.
ISLAND TOURS
Explore the Martha's Vineyard on a narrated Island Tour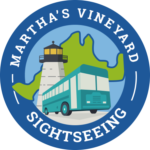 Join Martha's Vineyard Sightseeing, Inc for a relaxing and informative journey you're sure to cherish forever. You will enjoy a fully narrated 2.5 hours tour of Martha's Vineyard with professional guides fully versed in the landscape and lore of this unique island. The towns on Martha's Vineyard offer surprising diversity, each with its own character and personality and the drivers know all the history the island has to offer as well as their facts and folklore. The tour bus will pick you up upon arrival at our dock in Oak Bluffs to begin your fun-filled sightseeing excursion.
The Sightseeing Tour takes 2.5 hours and passes through all six Island towns. Highlights include a 30-minute stop at the Gay Head Lighthouse in beautiful
Aquinnah
 which is recognized worldwide for its dazzling red clay cliffs and natural beauty.
The tour also includes the towns of Oak Bluffs with its "gingerbread" cottages and scenic ocean front park, this is a Victorian era summer resort community of national repute. West Tisbury is a "typical New England village" right out of a Currier & Ives print. For those who cherish the past, Edgartown presents an architectural memorial to whaling's golden age. Vineyard Haven is the island's multifaceted and picturesque center of commerce; a year-round port anchored by a wooden boat building industry. Chilmark's unique rolling hillsides and vistas overlooking the Atlantic and the Elizabeth Islands. The towns on Martha's Vineyard offer surprising diversity, each with its own character and personality. Be sure to bring along a camera!
Reserve Your Martha's Vineyard Sightseeing Bus Tour Today!
The tour bus will be waiting to pick you up at the ferry dock in Oak Bluffs when you arrive on Martha's Vineyard. 2022 Rates: Adults $40, Child (4-12) $20, Children under 4 are free (space permitting).
Martha's Vineyard Sightseeing, Inc. has been providing sightseeing tours of Martha's Vineyard for over 25 years. They are the Island's Tour and Transportation experts!